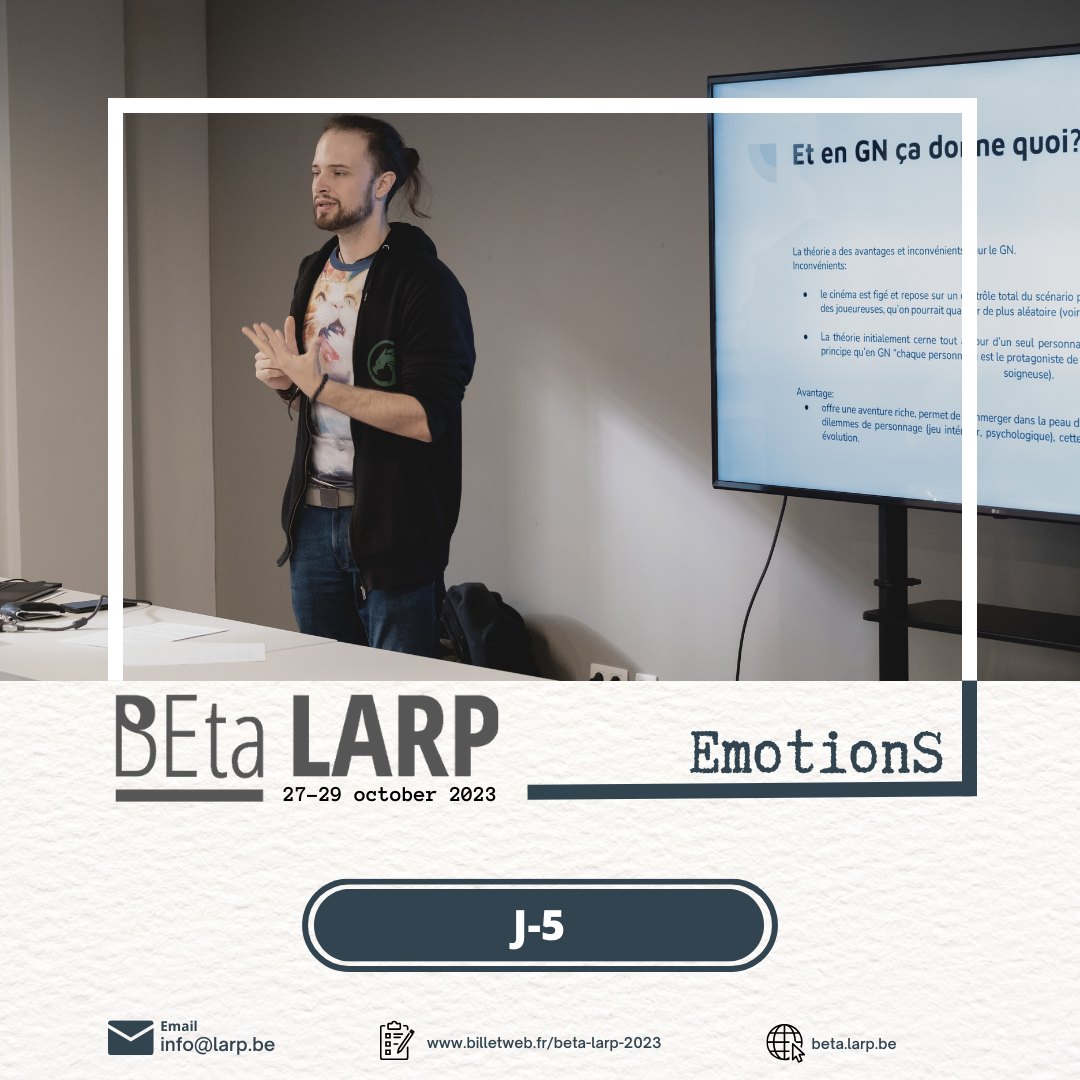 BEta Larp | D-5
Only a few more sleeps before we can celebrate 10 years of BEta Larp with you!
In the meantime, here's some useful info:
𝐖𝐡𝐞𝐧 𝐝𝐢𝐝 𝐰𝐞 𝐠𝐞𝐭 𝐭𝐡𝐞𝐫𝐞?
Friday, you can arrive as early as 7pm. We'll welcome you with trumpet (more or less) and you can settle in at your leisure, come and chat with us, rest a little… It's up to you! Don't forget your kigouroumi for the pyjama party (from 8.30pm).
On Saturday, welcome is at 9am. Don't be late! Alessandro Giovanucci's opening lecture, "C'est vrai parce que c'est faux: les émotions en GN" will start at 9:30 am.
Sunday's welcome begins at 9am. We'll kick off the day with the fabulous Larp Quizz!
If you arrive later on either day, don't panic: an orga will be there to inform and direct you.
When you arrive, you'll receive your activity guide, badge and any goodies you've ordered.
Those sleeping on site will be contacted shortly by e-mail.
𝐖𝐡𝐞𝐫𝐞 𝐢𝐬 𝐭𝐡𝐞 𝐇𝐨𝐬𝐭𝐞𝐥?
The Hostel is located at Rue du Bastion d'Egmont 3 in Charleroi. It's a 5-minute walk from Charleroi-SUD train station, and several free and not-so-free parking lots are accessible in the vicinity (full list of parking lots:
https://www.charleroi.be/vivre/mobilite/en-voiture
).
If you want to carpool, go to the BEta Larp event page to make your request directly!
𝐀𝐧𝐝 𝐭𝐡𝐞 𝐬𝐜𝐡𝐞𝐝𝐮𝐥𝐞?
Here's the latest version of the BEta Larp schedule:
https://shorturl.at/ehqEF
Please note that some activities require prior registration (
http://beta.larp.be/beta-larp-2023-rappel-inscription-a…/
)!
You can already consult the BEta Guide online, if you don't have it in hard copy on D-day (
https://shorturl.at/boyQV
)! It contains all the information you need to make the weekend run smoothly, as well as all the activities.
Don't hesitate to take a board game for your breaks!
Darn! I forgot to register!
Get your ticket here:
https://www.billetweb.fr/beta-larp-2023
Missed the boat on booking your room? Come over here:
https://shorturl.at/fhDVY
! On the other hand, it's no longer possible to book meals at all.
A 𝗾𝘂𝗲𝘀𝘁𝗶𝗼𝗻?
Contact us by e-mail at info@larp.be
See you very, very soon!