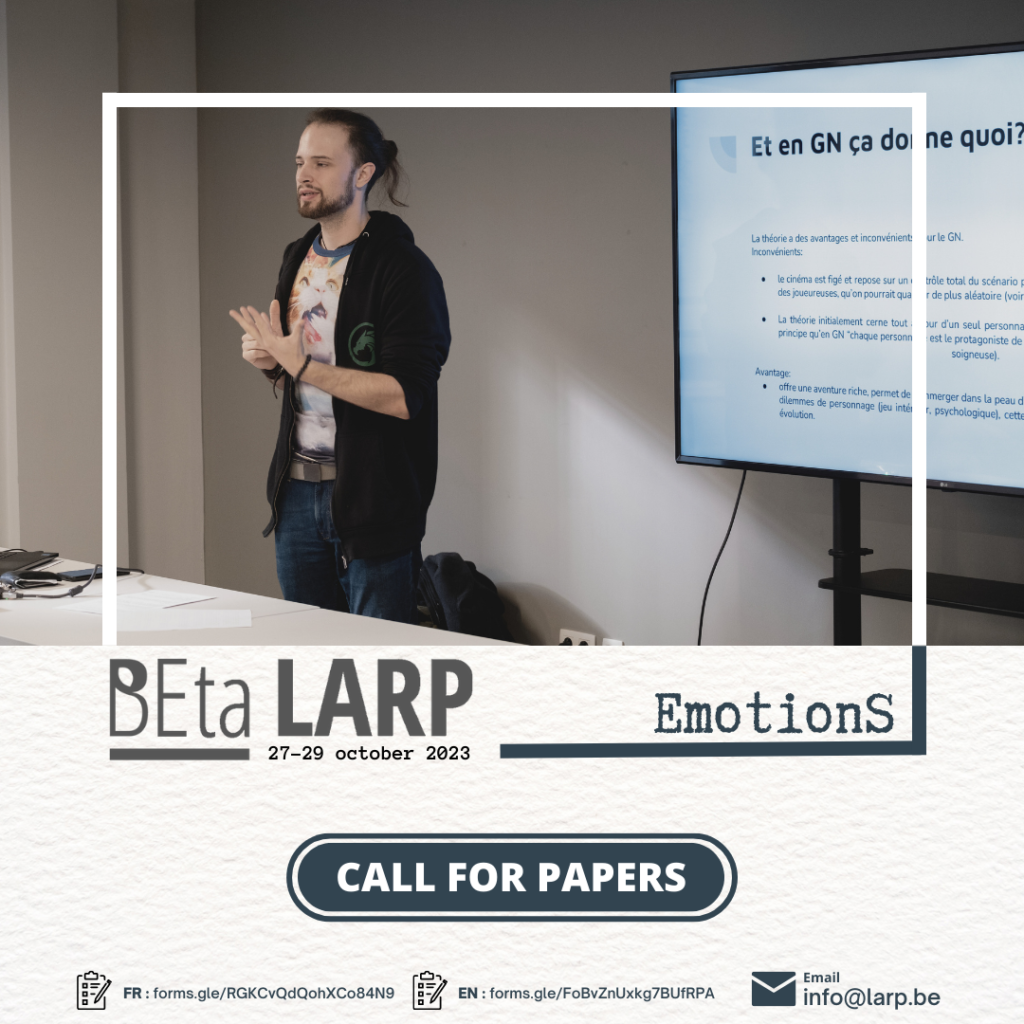 Vous l'attendiez tous et toutes… L'attente était insoutenable…
HÉ BIEN, NOUS Y VOILÀ
Le Call for Paper pour BEta Larp 2023 est désormais ouvert ! La thématique de cette année ? Vous brûlez d'envie de le savoir… ? Allez, on arrête de faire durer le suspens et
place….
aux Émotions :
 »Depuis la juste colère qui nous anime face à la bassesse des elfes du camp d'en-face dans la plaine d'un mass-larp à l'émoi fragile ressenti lorsque deux mains se touchent au détour d'un drame romanesque, en passant par la tristesse au-dessus du corps (faussement) sans vie d'une sœur d'armes ou l'excitation de la découverte d'un indice ors d'une soirée-enquête, les émotions seraient la trame de nos mille-et-une vies imaginaires de gnistes, des histoires que nous construisons ensemble.
Qu'elles soient recherchées ou accidentelles, qu'elles soient belles et réconfortantes ou dures et parfois difficiles à encaisser, qu'elles surgissent en jeu ou non, elles sont présentes à chaque pas de nos personnages et dans chaque interaction de jeu. Qu'elles soient refoulées ou pleinement acceptées, elles n'en soient pas moins -peut-être ?- l'essence même de nos expériences en grandeur nature, l'élément sans lequel notre passion commune perdrait une grande part de sa saveur, le Graal après lequel nous courrons parfois sans oser nous l'avouer, l'addiction qui nous rassemble.
Mais elles sont aussi parfois la frustration de ne pas avoir été casté·e la nostalgie de la camaraderie qui fut, le bleed qui refuse de partir. Avant, pendant, après, rejoignez-nous pour discuter ensemble de ces émotions, de leur nature, de leur présence ou non dans vos grandeur natures. Explorons les multiples facettes de ces émotions dans nos GN, et partageons le temps d'un weekend notre passion et les émotions qu'elle suscite. »
Qui dit mieux ?
Inscrivez votre proposition d'activité avant le 30 juin
Formulaire FR : https://forms.gle/NNabjxYqqKRgdFwm6

Formulaire EN : https://forms.gle/RsZmW37wE8qKWrQAA
**************
You were waiting for it… And this wait was unbearable…
WELL, HERE WE ARE
The Call for Paper for BEta Larp 2023 is now open! This year's theme? You can't wait for it… ? Come on, let's stop this suspense and
place….
to Emotions:
 »From the right anger that moves us when faced with the lowliness of the elves of the opposite camp in a plain of a mass-larp to the fragile emotion you feel when two hands touch at the bend of a romantic drama, through the sadness over the (falsely) lifeless body of a sister-in-arms or the excitement of the discovery of a clue during an investigation party, emotions would be the framework of our thousand-and-one imaginary lives of larpers, of the stories we build together.
Whether they are sought after or accidental, whether they are beautiful and comforting or hard and sometimes difficult to take, whether they arise in play or not, they are present in every step of our characters and in every game interaction. Whether repressed or fully accepted, they are nonetheless – perhaps – the very essence of our life-size experiences, the element without which our shared passion would lose much of its flavor, the Grail we sometimes chase without daring to admit it, the addiction that brings us together.
But they are also sometimes the frustration of not having been casted, the nostalgia of the camaraderie that used to be, the bleed that refuses to leave. Before, during, after, join us to discuss these emotions, their nature, their presence or not in your life-size. Let's explore the many facets of these emotions in our Larp, and share for a weekend our passion and the emotions it brings. »
Who can say better?
Register your activity proposal before June 30th
FR Form: https://forms.gle/NNabjxYqqKRgdFwm6

EN form: https://forms.gle/RsZmW37wE8qKWrQAA